Enjoy faster, easier checking with the use of First National Bank's Debit Card.

To make a purchase, just present your Debit Card. The purchase amount is automatically deducted from your First National Bank checking account, and you get a receipt for your records. Use your debit card to make purchases anywhere Mastercard is accepted or go to any ATM to access your First National accounts to withdraw cash, make deposits, or transfer funds whenever it is convenient for you.
Debit Card Features:
Debited directly out of checking account
Accepted where major credit cards are accepted
Each transaction appears on your monthly checking statement with amounts, merchants' names, and locations
Your Debit Card can be used in all ATM Machines
Extra safety - if your card is lost or stolen, please contact First National Bank immediately to report your lost or stolen card at 419-629-2761.  After hours, please call Fiserv Member Services at 1-800-554-8969
Contactless EMV Debit Cards:
In April 2021, First National Bank began issuing contactless EMV (chip-enabled) debit cards. These cards will be issued to customers during their normal expiration cycle.  Customers may request contactless EMV cards before their expiration date by contacting bank personnel.  The contactless EMV cards can be identified by the rectangular shaped microchip in the upper left section of the card, with the contactless symbol directly to the right of it. Once your contactless EMV card is activated your old card will be deactivated.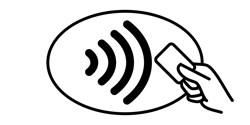 The new contactless EMV cards will give customers the option to do transactions by contactless tapping, EMV inserting, or magnetic strip swiping.  Actual usage of contactless EMV cards is further explained in the letter accompanying the new card.  Contactless EMV provides all the same security as regular EMV cards with the additional benefit of being contactless.  EMV and Contactless EMV add security in a card present environment, but do not provide any protection with online purchases.  Please make sure you know whom you are dealing with before entering your card information to make online purchases.  Please feel free to contact the Bank with any questions.
ATM Features:
24 Hour Automated Teller Service
Withdraw available cash from your checking or savings account
Make transfers between savings and checking accounts
Make deposits to your account at ATMs equipped with that available feature
Purchase merchandise at merchants equipped with POS (Point of Sale) terminals
Free ATM access at any First National Bank ATM Terminals.
To apply, simply contact a Customer Service Representative at one of our office locations. They will help you complete the application so you can have your debit card available to make purchases anywhere MasterCard is accepted. To activate your debit card or to change your Pin, please call 1-800-567-3451.
Click here for ATM/debit card terms of use.
Click here to learn more about debit card at our Online Video Learning Center.